Features
Applications
Termination types
Tips
Box
Features
Immersion heaters are tubular elements built on flanges or on screw plugged lids. They are installed in a waterproof way in all kinds of tanks and circulation heaters.
Immersion heaters can be fitted to a square or round flange or on a screw plug (these are available in steel, brass or stainless steel).
OPTIONS :
With integrated thermostat
Explosion resistant for hazardous locations
Humidity resistant housing for applications exposed to the elements.
Pipe-insert Immersion Heaters (for viscous fluids application)
AVAILABLE IN A WIDE RANGE OF SHEATH MATERIALS :
(depending on solution in which the heater will be immersed)
Incoloy

Copper

Stainless Steel

Inconel

Quartz

Teflon

Etc.
Applications
Liquids, gases and compressed air heating

Water and special watery oil solutions, special and corrosive heating baths.
Termination types

Tips
Using low power immersion heaters in viscous liquids or in liquids with a high density of solids could cause an accumulation of wastes on the elements.
Immersion heaters with incoloy sheath or stainless steel can be furnished with chemically passivated sheaths, which provide really good resistance to corrosion in highly corrosive applications. Passivation is done using polishing electrolyte technique.
Box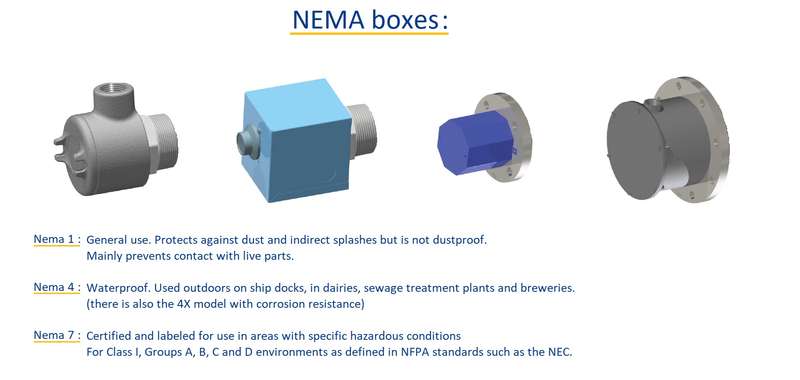 Quote request
Print